Commercial Snow Removal
We provide commercial snow removal services to ensure that your business establishment's outdoor spaces are free of snow and safe for your customers and employees. Maintain clear parking lots, driveways, and walkways during the winter season! We offer snow plowing on a seasonal or single event contract. Contact us today to get a quote on commercial snow removal.
Commercial Snow Plowing
Our fleet of commercial snow plow trucks and salt trucks are ready for your winter parking lots. When the snow flies -so do we. We take great care with our commercial business clients and push snow into pre-designated areas. Our drivers are all experienced and take great care not to scuff, scrape, or run over materials on your property. We are professionals. For a fast, reliable, and quality commercial snow plow experience, give us a shout!
Commercial Sidewalk Snow Removal
Removing snow from commercial sidewalks and keeping them clear of ice is one of the best ways to keep customers and employees safe during the harsh Michigan winters. Our sidewalk and salting crews use a variety of techniques and tools to keep your walks clean before, during, and after winter storms. We pride ourselves in our efficiency and quality of service. For a stand out commercial sidewalk snow removal contact us today!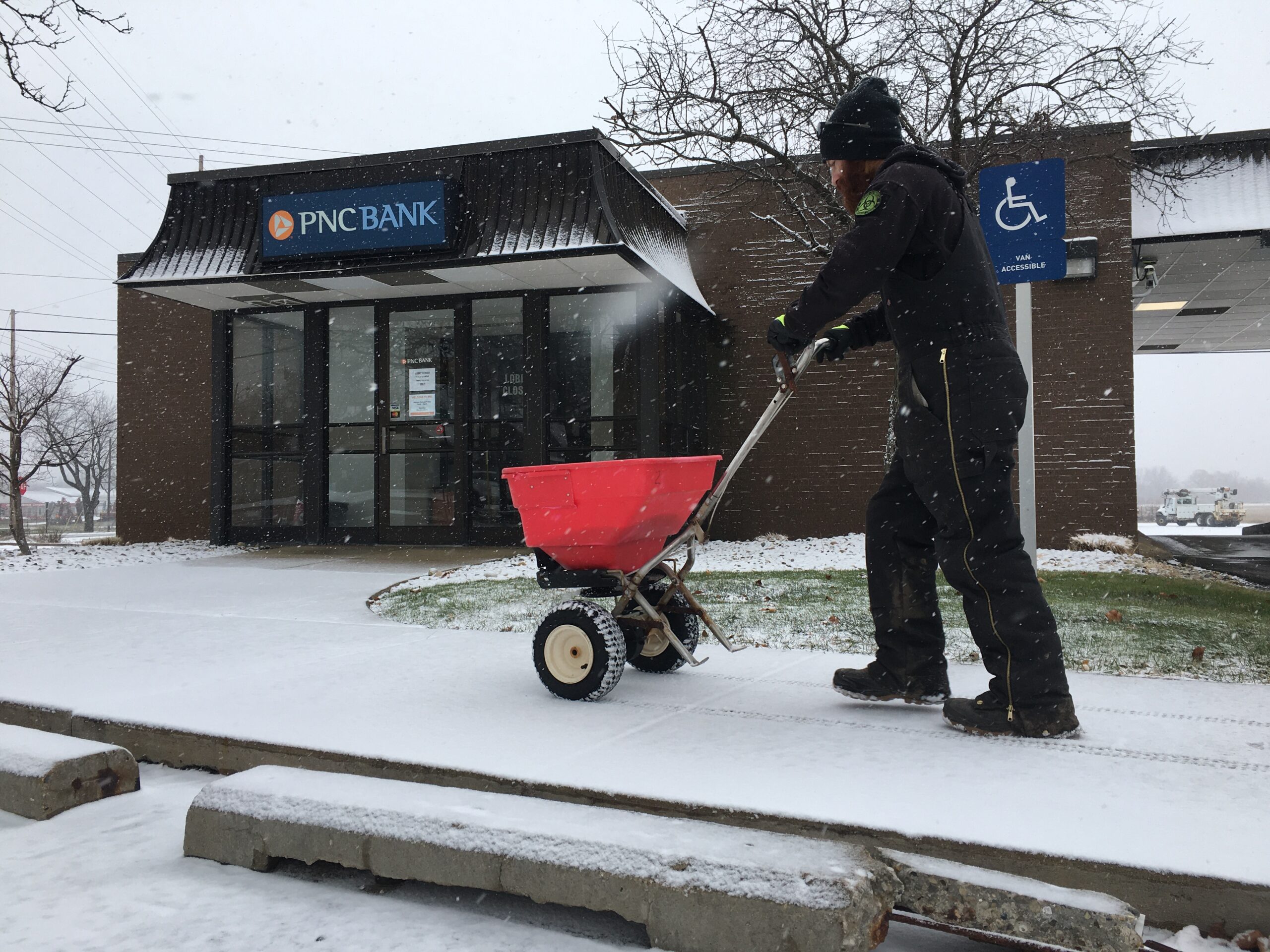 Why Thompson's Stands Out In The Snow
Timely
Our crews get up early in the morning to remove snow before you open. We monitor snow storms and have live tracking software to help "babysit" the snowpocalypse if it happens. 
Detailed
When clearing snow from places of commercial business, we understand curb appeal is important… and so is your curb! We pay attention to detail and minimize the probability of damage from plows and blades. 
Safety
Safety always comes first. You, your employees, and your customers. Our drivers drive safely and avoid reckless driving and situations that may bother customers. 
Quality
We simply do a quality job for our clients. We've got snow removal down to a science. For clean clear and safe driveways , parking lots, and side walks call Thompson's to get a quote for the upcoming season.
Maintaining Safe Commutes
All Winter Long!
Our seasonal snow removal process is very simple. We take the following steps to ensure a quality job.
Property Walk Through & Plan

Property Staking and Designating Snow Pile Zones

24/7 Snow storm Monitoring & Dispatch

5 Point Tracking Checklist For Each Event